German producers of wine and beer in Almaty
In the very heart of Almaty in the Grand Tien Shan Hotel (the main venue of the Frankfurt Exhibition), Mr. Michael Grau, German Consul General and Mrs. Galiya Dzhunusaliyeva, the Head of the Representative office of the German economy in Kazakhstan, took in numerous guests from trade and gastronomy on the occasion of the presentation of German wine and beer producers.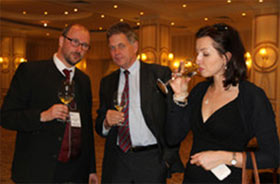 Guests gladly took the opportunity to taste German products and to communicate with manufacturers. During the presentation, the guests learned about numerous German wines made from different grape varieties considering features of the soil.
The beer that was brewed following the recipes of the year 1516, also promises to give pleasure. Top quality German vintage wines can be purchased from reputable suppliers in Almaty. German beer is also very popular.
The presentation was attended by the following companies:
Karlsberg Brauerei GmbH, Homburg
Winzergenossenschaft Westhofen e.G., Westhofen
Weingut Leitz KG, Rüdesheim am Rhein
Brauerei Zoller-Hof Graf-Fleischhut GmbH & Co. KG, Sigmaringen
Kalkbödele Weingut Gebr. Mathis, Merdingen
Einig-Zenzen GmbH & Co. KG, Kaiserslautern
Representative office of the German economy in Central Asia, May 31, 2013.