BenchMark series washing machine from Miele Professional at international exhibition CleanExpo in Kazakhstan
Well-deserved results: BenchMark washing machine from Miele Professional at international exhibition CleanExpo in Kazakhstan.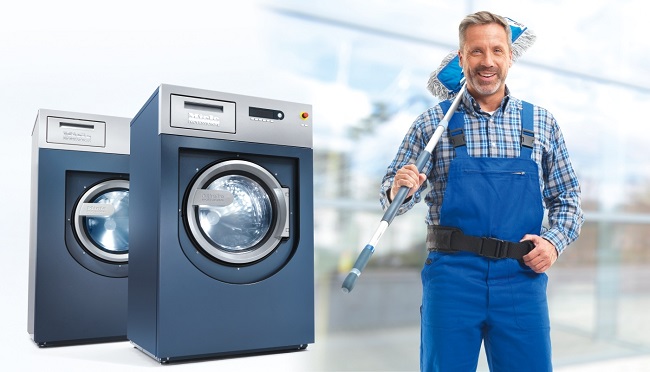 Innovation for a customer who cares about consistently high quality and a short payback period.
New series of BenchMark washing machines from Miele that was launched successfully last year gathered the first positive feedback and recommendations from Customers. Machines are so good that information about them spreads very quickly, and inquiries come from all branches of industrial washing industry: hospitality industry, overalls washing, oil industry, dry cleaning industry, sports clubs, massage parlors.
The first positive comments about Benchmark in Kazakhstan were shared by: Residence of the President of the Republic of Kazakhstan in Almaty, "Almaz" sanatorium in Shchuchinsk, new fitness center in Astana, "Nomad" hotel in Semey.
Wherever excellent results and high performance are needed, Miele offers a reliable, high-quality and cost-effective solution. Machines are designed for a long service life under conditions of the most intensive operation, they cover absolutely the whole range of tasks of professional laundry care, and also take into account market demand for low-budget models.
BenchMark series washing machine will be presented at Miele exhibition stand from the budget assortment as a full and significant piece of equipment that appeared as an answer to the question: "How is it possible to make washing process even more economical with increased productivity, eliminating increased wear?"
Also the stand of the world's leading manufacturer of laundry equipment, Miele Professional, will present a number of the best washing and drying machines for business, including already well-known products of the company: PWT 6089 dual complex - 16 standard programs and 15 special program packages for various target groups, PT 7189 - automatic control of residual moisture, 15 standard programs with 4 degrees of drying, PW 5065 washing machine - delayed start up to 24 hours, 16 standard programs, PT5136 drying - 13 programs for specific textiles products. Drying machine Slim Line PT 8303 series deserves a separate place in this list. It is the one which became particularly popular among customers demanding high-quality finishing. Thanks to its highly professional skills and Profitronic B system, which controls drying time with the choice of temperature conditions, as well as conceptual design in OctoBlue shade, the machine has become a real favorite and is very desirable everywhere where high productivity is required in a small area.
Traditionally, within 10 days after participation in the exhibition, there will be special conditions for ordering of Miele equipment.
All Miele's developments serve the idea of conserving natural resources, reducing customers' material costs and increase of equipment service life. The guaranteed period of operation of all Miele equipment is at least 20 years - a logical choice for people who care about their name, the quality of services provided and a careful approach to costs.