Japanese knives at Horex Kazakhstan 2018 exhibition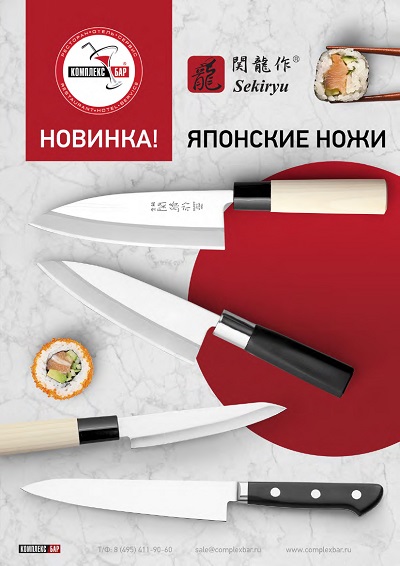 Complex-Bar Company, annual exhibitor at Horex Kazakhstan, supplies a wide range of specialized and professional products from leading international and domestic manufacturers to Horik industry.
At Horex Kazakhstan 2018, the company will present a novelty - Japanese kitchen knives in the spirit of ancient traditions. Note that this tool is an essential attribute of every self-respecting chef of Japanese cuisine. These knives are presented in 2 types: traditionally Oriental Japanese knives, and Japanese knives of Western style, which differ in the shape and type of the blade, as well as in their intended purpose.
In addition "Complex-Bar" will present the following products at their stand:
• professional bar and restaurant glass;
• tableware made of glass and porcelain;
• cutlery;
• tableware;
• professional bar, kitchen and pastry equipment;
• electrical equipment;
• MONIN syrups, toppings and fruit purees;
• decoration for cocktails and desserts.
Visit company's stand from October 31 to November 2 and get acquainted with the full range of products at Horex Kazakhstan 2018, which will be held at Atakent Exhibition Center.